So I'm linking up today with Amanda for Thinking Out Loud Thursday.
Sometimes things happen for a reason.
Yesterday was supposed to be my first run mentoring the STEM group (a Couch25k program for women who are victims of domestic violence). I volunteered last fall and it was a very inspiring experience. It's amazing how you bond with these women after only 9 weeks.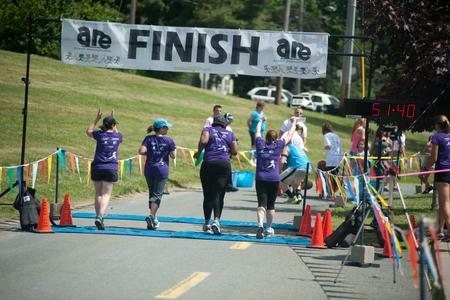 I said I that I would help again on Wednesdays but they changed the location and time.  I tried but with the traffic, I arrived too late and the group was gone.
I was bummed so I drove home and then on a whim, I stopped at Stewarts to get bread and got the run urge (or maybe it was that my FitBit hadn't buzzed yet.)
That's where I usually park for my runs on the rail trail.  I always run toward Voorheesville which is 1.9 miles.  The other direction has been under construction for years.
Guess what?  It's done.  It's a beautifully paved path that goes all the way to Albany. That should add another 3 miles.
So I wouldn't have discovered this new route (near where I live) if I ran with STEM.
This morning, I was about to apologize for missing the run when I got a message that they needed someone to run with the Albany STEM group.  I said that I would do Wednesdays and it is closer so it should work out better.
And another thing…
There are two 10ks that I considered signing up for this weekend.
There's a local one that my tennis friend is doing.  I actually owe her since she got me started running.  But it's a boring 5k loop done twice.
Then there's a scenic one in Chestertown along the Schroon River.  My friend has a house there where I could stay the night before and it is 10 minutes away from our boat.
I choose the scenic one.  However, my friend got the dates mixed up and offered her house to someone else.
Darn!  I had already taken Friday off from work but I could drive up that morning or do the local race.
But it was another lucky day for me.  My friend called to tell me that her friend changed his mind and won't be staying in her riverhouse. I can stay there!
What else?
The race…. maybe I'll get lucky here too.
I ran this race 2 years ago and my time was 1:06:10.  I was recovering from a broken foot and it is a hilly course.
My 10K PR is 57:03 and my most recent 10K time (on a flat course) was 1:00:39.
So my hope is to finish under 60 minutes but my realistic goal is to finish around 1:02 and win a AG award.
And hopefully have enough left in the tank to finish my long run here in the Adirondacks:
Happy Running! What's on your mind this Thursday?